Underwater New York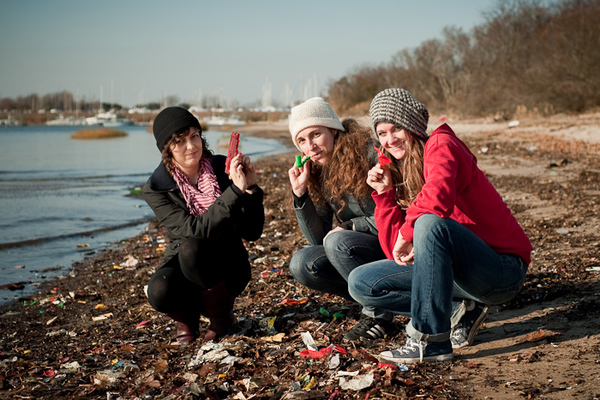 Nicole Haroutunian, Helen Georgas, and Nicki Pombier Berger at Dead Horse Bay. Photo © Adrian Kinloch
I am the Founding Editor of
Underwater New York
, a digital journal of stories, art and music inspired by real life objects found in the waterways around New York City, edited by myself, Nicole Haroutunian, Helen Georgas, and Nicole Miller.
Origin Story
In 2009, I read an article in
New York Magazine
listing nearly 30 objects and phenomena beneath the waters around the city, things as specific as a Formica dinette standing upright at the bottom of the East River near 16th street and as ephemeral as the contours of a new current pattern; things pedestrian as toilet paper and predictable as dead bodies, inexplicable as a giraffe and singular as a grand piano.
These seemed to me perfect points of entry for stories, and I sent the article out to a group of friends proposing a summer writing project. The idea took root and grew, and by the end of the summer, Nicole Haroutunian and Helen Georgas had joined me as co-editors of Underwater New York, which
launched aboard The Lightship Frying Pan
, a once-sunken ship-turned party boat in the Hudson.
Since then, Helen, Nicole, Nicole and I have published the work of well over 100 artists, musicians, and writers, and built a list of found objects ranging from the whimsical to the historical, discovered by divers and scientists, detectives and engineers, environmentalists and everyday city-dwellers. We have held events, performances, parties or excursions in every borough of New York City (see my
resume
for a full list).
Underwater New York is a living project, always interested in new work and collaborations. We accept submissions in any genre on a rolling basis. What interests us is work as inspired as the waters are littered, work that takes us somewhere, makes us laugh, moves or surprises us, unmoors us, makes us think. Artists have been drawing from New York City to do just that for as long as there have been artists and the city. Under the Hudson, the Harbor, East River, Arthur Kill - underwater everywhere - is another landscape entirely, every bit as gritty and urgent, as lonely and cluttered, as deadly, nonsequitous, singular and Siren as the City itself.
Underwater New York has been
featured
in
The New York Times
,
WFUV's Cityscape
,
Atlas Obscura
,
Brooklyn Ink
,
PopSugar
,
Jewcy
and others, and our events have been selected by
Time Out New York
as a "Critics' Pick," by
The Village Voice
as a "Voice Choice," and mentioned in the
New Yorker
,
New York Magazine
, the
New York Daily News
, and
WNYC
.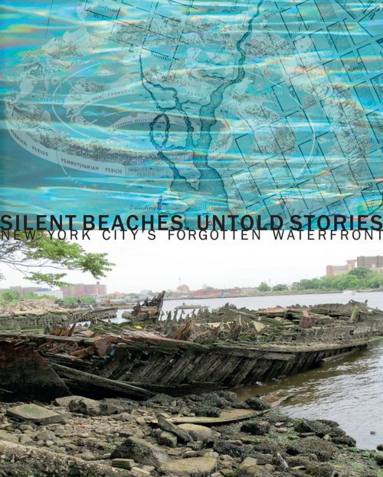 Underwater New York
collaborated with
visual artist Elizabeth Albert to publish
SILENT BEACHES, UNTOLD STORIES: NEW YORK CITY'S FORGOTTEN WATERFRONT
(Damiani, 2016).
SILENT BEACHES transports the reader into the extraordinary past and present embedded in New York City's more than 600 miles of coastline through a stunning selection of rare photographs, history, new fiction and poetry, and contemporary art.
Eric W. Sanderson
, author of
Mannahatta: A Natural History of New York City
, calls it a "fascinating and poignant combination," a portrait of "New York City on the margins. In the early 21st century city we are so focused on growth, and the consequences of that growth, for better or worse, that we forget how the city also leaves places and people behind. Sandy Ground, Hart Island, Gowanus Creek, Dead Horse Bay, and other off-the-beaten track locales, remind us that abandonment, decay, isolation, and death, are also part of our experience on this particular verge between land and sea. You and your contributors give voice to the bright dreams and restless forces that transform."
Those contributors constitute a knockout list:
Visual artists
Elizabeth Albert
,
Spencer Finch
,
Melinda Hunt
,
Nathan Kensinger
,
Eve Andree-Laramee
,
Marie Lorenz
,
Mary Mattingly
,
Joel Meyerowitz
,
Luke Rafferty
,
James Walsh
, and
Carrie Mae Weems
, and
Writers
Stacia L. Brown
,
Bill Cheng
,
Susan Choi
,
Ravi Howard
,
Elizabeth Gaffney
,
Ben Greenman
,
Nicole Miller
,
Kamilah Aisha Moon
,
Nelly Reifler
,
Amy Shearn
, and
Antoine Wilson
.