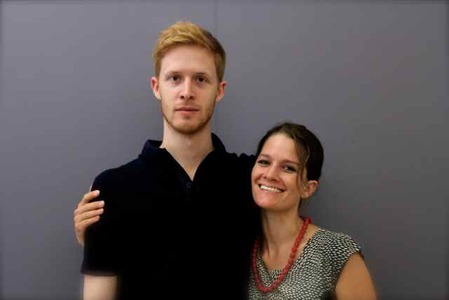 StoryCorps photo with Andrew Wallace, Manager of OutLoud, at the LGBT Center
Overview
Featured in StoryCorps podcast:
Listen Closely
Per-Diem Facilitator: June 2015 - current
Cultural Humility Discussions and Diversity Workshops - 2012, 2015
StoryCorpsU Education Associate / Interim Manager: October 2012 - June 2013
National Teachers Initiative Senior Coordinator: January 2011 - June 2012
Coordinator, Community Engagement: June - December 2010
Cultural Humility and Diversity Workshops
I have given presentations on Cultural Humility, as a conceptual framework alternative to Cultural Competence, to various departments at StoryCorps since 2012. In 2015, I offered workshops on disability and accessibility to all staff in three separate sessions, providing a brief historical overview of disability rights and facilitating a conversation about what is meant by "access" at StoryCorps, working through concrete challenges to access and broader approaches to working in the service of true inclusion throughout the organization.
StoryCorpsU
StoryCorpsU
is a year-long, cross-disciplinary (language arts, media, history), youth development program designed for 9th and 10th graders to help students develop self and social awareness, academic skills, and strenghtened school relationships.
SCU uses StoryCorps' tested interviewing techniques—combined with outstanding radio broadcasts and animated shorts—to support high school students in the development of identity and in drawing connections between their unique strengths and the college application process.
As Education Associate and Interim Manager, I managed student-produced content and partnerships with schools in Chicago, New York, and St. Louis.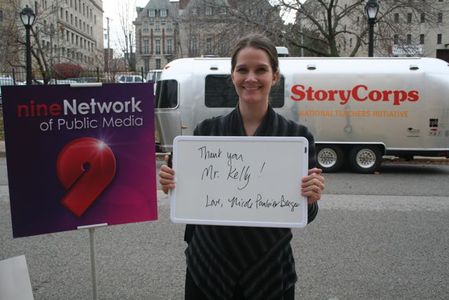 At the Teacher Town Hall event in St. Louis, 2011
National Teachers Initiative
The 18-month National Teachers Initiative celebrated the work of public school teachers across the country. As Senior Coordinator, I m
anaged outreach resulting in the collection and archive of 687 oral history interviews, and spearheaded partnerships with ten public media outlets nationwide. The National Teachers Initiative launched at the White House on September 19, 2011, and included ten broadcasts on National Public Radio.
Coordinator, Community Engagement
In my first role at StoryCorps, beginning as an intern and transitioning to a coordinator position, I performed a range of outreach and engagement activities, including leading organization-wide efforts to deepen outreach to Latina/o immigrant communities through funding from the Ford Foundation.