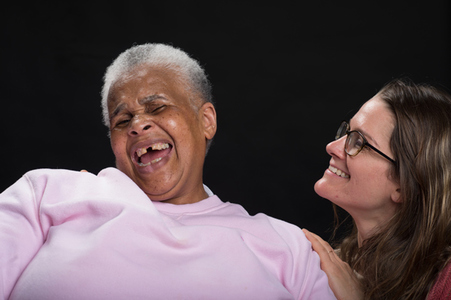 Photo by JJ Tiziou. Edith, a narrator from KenCrest, and me
Here. Stories from Selinsgrove Center and KenCrest Services.
Oral Historian, Community Partner, Co-Curator
September 2014 - May 2016
Exhibit in State Capitol Rotunda, Harrisburg, PA, October 2015
Exhibit in City Hall, Philadelphia, PA, March - April ​2016
About Here.
Approximately 1,000 Pennsylvanians with Intellectual Disabilities live in state centers, while another 16,000 are served by sheltered workshops and adult training programs. Whether we see them is, for many of us, a function of whether we choose to look. Whether or not we make that choice, these places are here, and they belong to us.
Here: Stories from Selinsgrove Center and KenCrest Services
invites you to meet nineteen people with intellectual disabilities who live and work in Pennsylvania. The settings (a state center and a sheltered workshop) may be new to many of us, but they are a part of our shared history.
Here.
provides a bridge to the lives of our "narrators" by way of eighteen volunteer "interviewers" who visited them at the Selinsgrove Center and KenCrest Services in the spring of 2015. Over the course of two months, people who would never have had the opportunity to meet came together. They shared meals. They were interviewed and photographed. Our interviewers saw settings that they didn't know existed and engaged with people who didn't communicate in traditional ways. They considered what it means to live and work apart from the community, to be "other." Our narrators, in turn, expressed feelings of validation, the kind that comes with being heard, and being seen as the expert author of one's own experience.
This complex story is told in audio interviews conducted by our volunteers, in images by photographer JJ Tiziou and in photographs co-created by the narrators themselves. The result is a story highlighting the rich humanity of people who are often seen for their difference, if at all.
Here.
asks you to look and listen differently, and consider that what was thought to be difference might, be an invitation to connect.
Read more about our process
here
.
See behind the scenes photos
here
.
Listen to interviews, read transcripts, and see portraits
here
.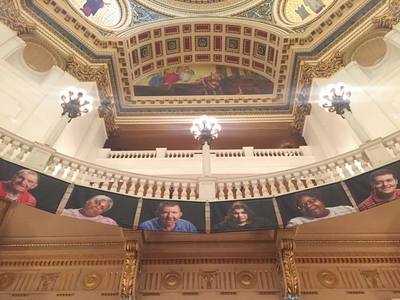 Portraits by JJ Tiziou hanging in State Capitol Rotunda in Harrisburg, PA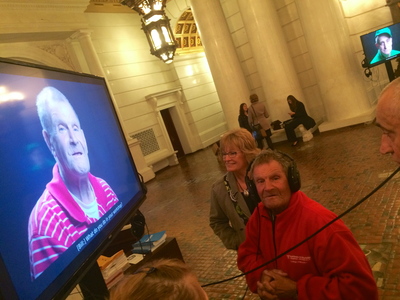 Selinsgrove narrators Frank and Jim C. listen to Frank's interview in the multimedia exhibit at State Capitol Rotunda in Harrisburg, PA

Background
Here. is part of a broader initiative entitled
A Fierce Kind of Love
, a community history and civic dialogue project on Pennsylvania's Intellectual Disability Rights Movement. Developed at the
Institute on Disabilities at Temple University
, the centerpiece of the project is a play that draws on oral histories from the
Visionary Voices
project, engages people with disabilities in the construction and representation of their own rich history, and introduces this history to new audiences.